Y
ou know the game you meant to get? The one where you kept telling yourself "next sale" for months on end?
For me, Dishonored was one of those titles. It's probably been on sale a half dozen times but I just seem to forget to grab it. I'll notice it on my way out the door and tell myself "I'll grab it once I get home" but failed every time. Until this summer sale I had no idea whether the game lived up to it's hype or was just another game that suited the need to entertain.

While I enjoyed Dishonored I think a few things need to be set straight and an objective opinion should be made. This is by no means a bad review, just a time to reflect and look at what may have been over embellished due to the excitement of a new IP with an off beat aesthetic.

Dishonored does have quite a bit of charm to it. It's almost a Bioshock meets Theif in a world where cell-shading meets contemporary graphics. Though the graphics are lacking the aesthetics still do a wonderful job of drawing you in. By no means is this a heavy hitter. My one 7950 did the job with 4x SSAA injected at a quite solid 60 FPS while vsynced. But the world kept my eyes glued to the screen picking out any small detail that may tell a bit more of the lore or story. Though I do feel as though they use the aesthetics to cheap out on things like ground textures and character detail. The polygon count surly wasn't breaking any records at the time of release either.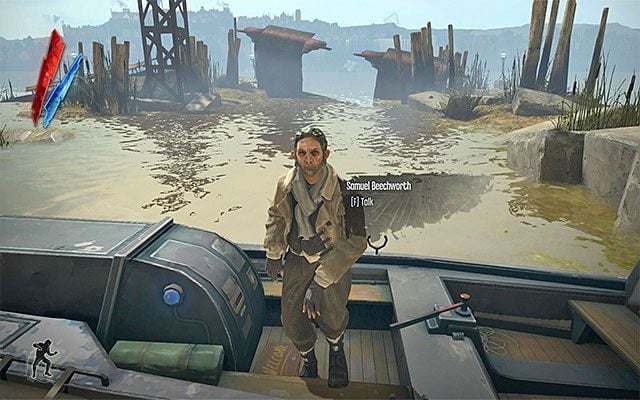 While a good amount of the game looked decent, a lot of the textures where just painted on like the front of Samuel's boat. Whether it was intentional or not it did retract from the overall atmosphere for me.
Dishonored is a stealth game. Yes, it can be played by other means, but the reward system is based on how many people you don't kill and how inconspicuous you don't kill these people. It starts out with a known empress in which you have a conversation with as you return from somewhere. Unfortunately this beginning felt a bit abrupt and a plot twist is given with-in the first 5 minutes. You talk to a girl Emily who asks you to play hide and seek. After one go around you speak to her mother who is the empress. With-in the conversation she is assassinated and Emily is abducted. In a way I can respect the abrupt beginning as it cuts through the crap of having you actual deal with boring character bonding, but on the other end it did feel a bit to abrupt.


Samuel, a boat man drives you from your home base to each mission that is laid out after one is complete. In your home base you have access to an inventor Piero where you can by bolts for your crossbow and upgrade your weapons. This part of the game was done great. You'll witness characters doing odd things and actually have them grow on you a bit leading up to the semi-predictable ending. They do a decent job of character foreshadowing and having quite a few of them grow on you. Their quirkiness seems to attribute to this.
Pierro, an odd fellow willing to craft weapons for you for your missions.
The first mission starts out great. You have access to numerous hubs with-in the city and although most of the mission you seek out optional easter-eggs in the form of runes and bone-charms, the blink ability you are granted in the beginning of the game seeks to make a very satisfying way of traverse in order to collect them. Blink allows you to flash forward with-in the "blink" of an eye. You hold that left trigger(played with a controller) and let go once you have that orb in a destination you want to reach. I was able to find very creative ways of getting around guards with this ability, and surprisingly found it to be a bug free tool through out the game. There are plenty of other abilities you can spend runes on, but blink was what I used most.
​Blink is the reason this game is so good. Without how seamlessly the mechanics inter-wound with the map, the game, more then likely, would have failed.
Still though, the promise from users and reviewers are still in my head. I was let down by how short it was. The first mission took me 4 hours and none of them afterward lived up to being as well designed and open. Some will tell you that it depends on how you play it, but with my difficulty set to hard and with all the runes and most of the bone-charms collected(missed 2), I could only get 14 hours max if I don't subtract the hour or so I spent afk. Don't get me wrong now. I loved the game, but I loved it so much that I felt I needed more. If all the levels had emulated the first I truly would've named this an amazing game. The freedom of choice was excellent, and gave me something to fill the void but with a story that isn't quite as amazing as the original Bioshock, I have to leave it from my favorites list.

Keep in mind though, while I was playing this I was completely enthralled with it. I just don't feel complete now that I am done. I want more levels and though they do have DLC, I find looking at the GoTY price costing less then acquiring every piece of them separately a little too disheartening to continue on.

Ultimately, I do recommend it, but it is quite a small game. I could easily have beat it in under 5 hours on my first go around if I decided that the runes were not worth it. For this I recommend the GoTY for anyone potentially ytaking advantage of the sale, and is something I deeply regret getting. I read to many false user review stating that the game could clock you in at 20+ hours and I thought the base game would be enough on it's own. It feels as though I ate the last pistachio in a small budget bag and I want more. Surly I could get 20+ hours...but what would I do with them?

At time of release this game was scoring well into the 90-100 range. I do think this is a bit much considering how little the game has to offer at opening price ranges. You are surly not getting a classic for discount prices here. Yet, a small game that will keep you occupied for a few days. It is extremely fun and immersive, but leaves something to be desired.